Vidal Blanc Steamed Clams with Bacon and White Beans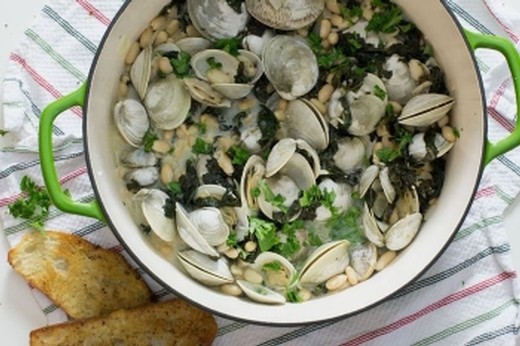 Measurements:
Imperial (US)
Ingredients
1 Package of dry white beans
Cold Water
4 cups Clam juice, divided
16 Clams
Ice
2 tbsps Grapeseed oil
8 ozs Smoked Bacon cut into lardons
2 Medium diced onions
3 Large, diced carrots
2 Celery stalks diced
Salt and Pepper for taste
2 Roasted and julienned red bell peppers
5 Cloves of chopped garlic
1 cup Old York Cellars Vidal Blanc wine
3 Springs of thyme
1 cup Heavy cream
1 Medium bunch of parsley roughly chopped
8 tbsps Extra virgin olive oil
Directions
The night before making the dish: Add the white beans to a glass bowl and add just enough cold water to cover. Cover with plastic wrap and set aside.
When ready to make the dish: Drain the white beans, transfer to a large pot over high heat, cover with 2 cups clam juice and enough water to cover beans and bring to a boil. When mixture reaches a boil, turn heat down to medium and cook about 1 hour or until beans are tender but not mushy. Set the white beans aside.
Meanwhile, place a colander in the sink and add clams. Rinse with cold water, scrubbing them with a brush to remove sand or loose shells. Rinse 3 or 4 times. Set aside the clams and covered them with ice.
In a large sauté pan, heat oil and sauté bacon lardons until golden and a little crispy. Remove from pan and set aside. Reduce heat to medium low and add onions, carrots and celery to pan, season with salt and pepper and sauté until tender. Add bell peppers and sauté for 1 to 2 minutes. Add garlic and immediately return heat to medium high. Deglaze pan with Old York Cellars Vidal Blanc wine and 2 cups clam juice. Add thyme and clams. Cover pan with lid and continue to cook until clams begin to open, then remove clams to a warmed serving platter.
Add cream to the pan and reduce by half. When beans are tender, drain off any liquid that remains and reserve it. Add beans to the pan and season with salt and pepper. Add parsley and lardons to cook for another 5 minutes. If beans are too watery, cook longer; if too dry, add some reserved liquid.
Serve beans in flat soup plates with clams on top. Drizzle each serving with olive oil and serve with a glass of Old York Cellars Vidal Blanc. CHEERS & ENJOY!