Roasted Pork Loin with Peach Wine Sauce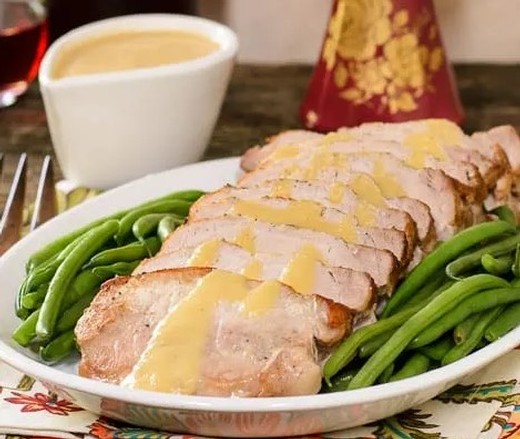 Measurements:
Imperial (US)
Recipe adapted from Magnolia Days
Ingredients
2 1/2 lbs Pork loin roast
1/2 Sweet onion sliced
2 tbsps Vegetable or canola oil
1/2 cup Old York Cellars Peach Wine
Salt
Pepper
20 ozs Frozen peach slices thawed
Directions
Preheat oven to 350 degrees F.
Sprinkle pork loin with salt and pepper.
Heat oil in a braising pan or Dutch oven over medium-high heat until almost smoking.
Add the pork loin to the pan and sear to brown on all sides, about 2 to 3 minutes per side.
Remove pork loin from the pan and set aside on plate.
Reduce heat to medium and add the sliced sweet onion. Cook until onions have softened, about 3 minutes.
Return the pork loin to the pan, add the peach slices and add the Old York Cellars Peach Wine. Cover the pan and place in the oven.
Roast the pork loin in the oven for 1 1/2 hours, or until pork has an internal temperature of at least 150 degrees F.
Place the pork loin on a cutting board and let set for 15 minutes.
Put peaches, onions, and all pan juices in a blender. Blend until liquefied and pour sauce back into pan. Bring sauce to a simmer then reduce heat to low to keep warm until serving with the roasted pork loin.
Slicethe roast and place on a serving platter. Serve with the peach wine sauce.

Cheers & Enjoy with a glass of Old York Cellars Peach Wine