Merlot Marinara and Pizza Sauce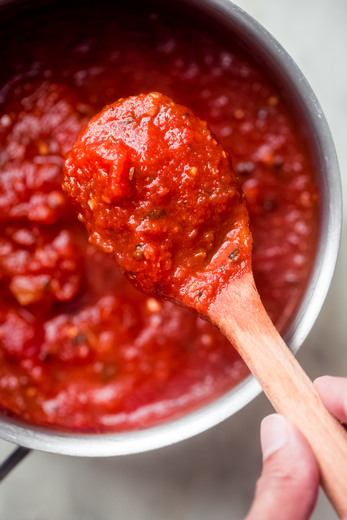 Measurements:
Imperial (US)
Recipe makes: ~2/3 cup Merlot pizza sauce or ~1 1/4 cup Merlot marinara sauce
Ingredients
2 lbs Plum Tomatoes
1 Clove of minced garlic
1/3 cup Old York Cellars Merlot
1/2 tsp Dried Italian herbs
Salt for taste
Pepper for taste
Directions
Bring a large pot of water to boil. Fill a large bowl half full with ice and water. Set a fine mesh strainer over a third bowl (medium size).
Using a paring knife, cut a shallow X into the bottom of each tomato - just deep enough to get through the skin.
Working in batches, drop the tomatoes into the boiling water for 60-90 seconds and then use a slotted spoon to transfer the tomatoes to the bowl of ice water; allow to cool for a couple of minutes.
Discard the boiling water and return the pan to the cooktop (heat should be off).
Working over the bowl fitted with the fine strainer, peel and discard the skin from 4 to 6 tomatoes (depending on the size of your bowl). Break the tomato open with your hand, remove and discard the tough core, and give the tomatoes a few squeezes to break them apart.
Using a spoon or stiff rubber spatula, vigorously work the tomato solids through the strainer. You will have fresh tomato sauce in the bowl and the tougher pulp and skins in the strainer. Discard the strained material and pour the tomato sauce into the pot. Repeat with remaining tomatoes.
Over medium heat, simmer the tomato sauce, garlic, and Old York Cellars Merlot wine until reduced to desired consistency, about 45 to 60 minutes for pasta sauce and 90 or more minutes for pizza sauce.
Stir in dried Italian herb mix and season with a pinch salt and pepper to taste.

Enjoy a glass of Merlot while you watch the sauce simmer, CHEERS & ENJOY!