Blueberry Wine Cream Cheese Pops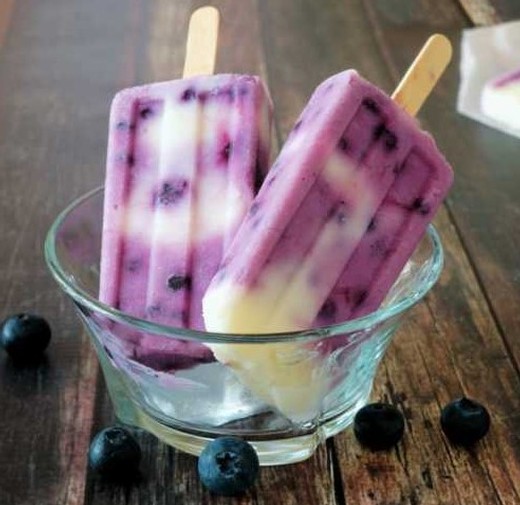 Measurements:
Imperial (US)
Recipe adapted from 12 Tomatoes.
Ingredients
Popsicle mold or Ice cube tray
2 cups Blueberries
1/2 cup Old York Cellars Blueberry Wine
1/2 cup Plus +4 tablespoons sugar, divided
1/2 cup Water
1/4 cup Heavy cream
1/4 cup Cream cheese at room temperature
Directions
Add ½ cup sugar and ½ cup water to a small saucepan over medium heat to create a simple syrup. Stir until sugar is dissolved. Cool completely.
Puree blueberries, Old York Cellars Blueberry Wine, and simple syrup until smooth. Then set aside.
Beat cream cheese until light and airy. Set aside.
In a separate, chilled bowl, beat heavy cream and sugar until soft peaks form. Gently fold the beaten cream cheese in with the whipped heavy cream until well combined.
Begin to assemble the popsicles. Add 2 tablespoons of the wine-blueberry mixture into each popsicle mold, followed by 1 tablespoon of the cream cheese mixture. Continue building these layers until the popsicle molds are filled to the top.
Place popsicle sticks into the center of each pop and freeze until ready to serve.
Run molds under warm water to gently release each popsicle.

Cheers & Enjoy with a glass of Old York Cellars Blueberry Wine!