Albarino Seafood Stew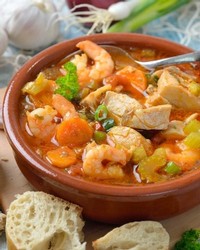 Measurements:
Imperial (US)
Wonderful recipe adapted from A Day in the Life on the Farm.
Ingredients
1/4 cup Olive oil
1/2 Large vidalia onion, chopped
2 tsps Tomato paste
3 Cloves of minced garlic
1/4 cup Chopped parsley
1 Quart of tomatoes with the juice (or add canned tomatoes)
1/2 cup Old York Cellars Albarino wine
8 ozs Clam juice
1 lb Raw shrimp, peeled and deveined
1/2 lb Cod filets cubed
6 ozs Spinach (and/or add your favorite vegetables)
1/8 tsp Thyme
1/8 tsp Oregano
1/8 tsp (Optional) Hot Sauce
1/8 tsp (Optional) Salt and Pepper for taste
Directions
Heat the olive oil in a heavy dutch oven or pot over medium high heat. Add vidalia onion, season with salt and pepper (optional) and cook for 3 to 5 minutes. Add minced garlic and cook for 1 minute. Stir in chopped parsley and cook for 1 to 2 minutes.
Time for the wine! Add Old York Cellars Albarino wine, and cook for 2 to 3 minutes while scraping up any bits at the bottom of the pan. Add tomatoes, tomato paste, oregano, thyme and hot sauce (optional), cook, stirring occasionally for about 10 minutes. Then add the clam juice, followed by the shrimp and cod. Lower the heat to a simmer and cook for about 3 to 5 minutes until the shrimp and cod are cooked. After removing from the heat, stir in the spinach until it is wilted.

(Optional)Taste and season with additional salt and pepper as needed.

Serve with a glass of Old York Cellars Albarino wine and fresh bread.

Cheers & Enjoy!